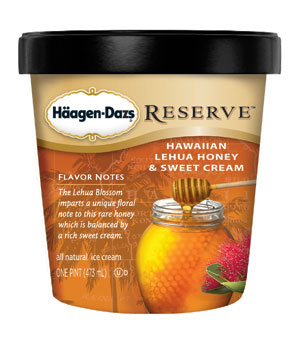 Pause for a moment to take in the vision of beauty before us.

Now, let's read the label together:
"Rich, sumptuous waves of cream mingle with evocative glimpses of tropical honey. The rare and delicate texture of the Lehua honey is entirely different from any honey you've ever tasted."
Ahhhhh.....Anyone feel like taking a vacation after reading that?
No iffs, ands, or buts - this ice cream is to die for. I use up all my dairy-cheats whenever this is in our house, because I can't keep my face out of it. It's got a creamy honey flavor that somehow manages to remain delicate while it's knocking your socks off and across the room. It makes any dessert a la amazingggg.
Put a spoon in your pocket, go buy a pint, and tear into it while you're still into the grocery store parking lot. It's a vacation in a carton, I promise.


* A note to my former frozen favorite:
Take The Cake
, you will forever hold a place in my dairy-hating heart. There may be times when it appears that I'm choosing Mr. Lehua over you, and that you've been relegated to the back of my freezer. But rest assured that, like Whitney, I'll Always Love You.